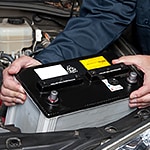 Car batteries don't do well in extreme temperatures for long periods. Most people think it's just winter that kills batteries, but summer can be equally stressful to a car battery. Our MINI of Charleston service department techs gave us the following brief rundown.
Car Batteries in Summertime
Car batteries create electricity through reactions between lead, lead dioxide and sulfuric acid, an electrolyte. Car battery electrolytes both conducts and stores electricity for future use. Summertime heat does several things to a car battery.
Read More