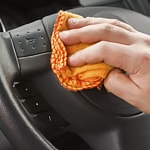 Car detailing doesn't have to be difficult. Any car owner in Charleston can master the art of car cleaning by using these simple tips from MINI of Charleston. All you really need is a willingness to put in the work.
The true secret to great car detailing is doing the work by hand. That means everything from washing to vacuuming to waxing and polishing. Too many car owners try to take the easy way out with pressure washers and power buffers. A regular hose isn't harsh on your car, and taking wax off with the old Mr. Miyagi method is still the best to get a great shine.
You should also be willing to spend a little money on the best tools. Select good brushes, sponges, and towels. Many inexpensive tools can be found, but they can also leave behind scratches. They can also break easily, leaving you stranded in the middle of a wash.